Jamuna future park is one of the busiest market places in Dhaka. Many people go there off day because they do not know jamuna future park off day.  It is located in the middle of the city and is one of the biggest shopping hubs in BD. A Shopping addict people like me is always on the go to explore new places like Jamuna future shopping mall. There is also a multiplex blockbuster Jamuna complex located in the mall where movie buffs can enjoy their day out.
You can find a wide variety of sarees and other clothing materials. It is also the place wherein the evening most of the local sellers display their stalls for local jewelry and different kinds of bags. As this place is a treat to the bargainers, you must expect a large crowd, especially in the evening.
Jamuna future park off day
This article covers some of the weekly off day of Jamuna future park, Indian visa center, and blockbuster cinema show.
Shopping Center & Markets
Closed day 
jamuna future park
Full: Sunday,

Half: Monday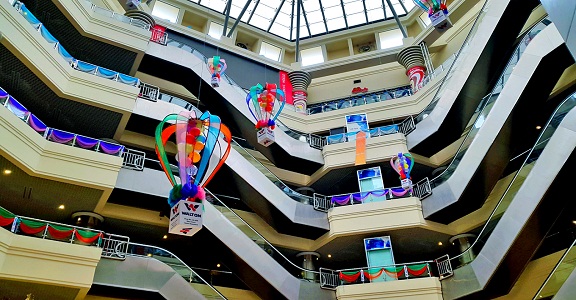 Features of Jamuna future park
This shopping center in Dhaka is world-famous for its collection of handicraft items. There are many emporiums that offer different goods at varying prices. It also makes a good option for buying clothes at a cheaper price.
JFP is located at the multiple
intersections of Baridhara, Bashundhara, Gulshan, Banani, Nikunja, Airport and Uttara.
A magnificent building having
2 basement floors for car parking, 7 floors (including upper basement floor ) for a shopping mall with multifarious amusement facilities.
Each floor comprises
of about 4,50,000 ft. containing approx 500 shops.>
Architectural landscaping
has been developed containing an area of approx 16 acres.
9 level's magnificent
and grand entry in 4 sides in different levels.
5 octagon shaped atriums
and 7 large void malls with skylight containing 10 panorama lifts will facilitate plenty of natural light into the mall area
Arrangement of a total of 118
escalators, 26 spacious lifts and 03 pairs of conveyor belt will ease shopper's movement around the complex area.
A family entertainment center
containing Cineplex with 7 individual hall rooms.
Indoor children's theme park
with capacity for 2500 children.
22 lines bowling alley with
the facility of karaoke and musical arrangement.
Gymnasium and health club
for at a time capacity of 2000 persons with facilities of spa and sauna.
Well-spacious exhibition halls
Banquete hall with a capacity
of 500 persons.
Hundreds of international
and local brand shops.
A grocery hypermarket
of about 500000 sft. floor area.
Two separate swimming pool
for ladies and gents.
An international franchise
the five-star hotel chains will be developed near the future for aligning Bangladesh with the international tourism arena.
Live the existence of different
malls with the facility of kiosk, lighting and strong security measure covered by both manual and CCTV camera networks in the internal and external network.
Strong earthquake resistance
as per BNBC Zone 2
Online branch banking
and ATM booth on each floor of JFP.
Centrally Air-Conditioning system
of 18500 ton capacity.
Total road networking
and traffic control systems.
The ring road has been developed
around Jamuna Future Park for enhancing the vehicle movement.
Automated car parking toll
a system with a capacity of 5000 parking at a time.
Water supply from deep-tube well,
independent water treatment plant and supply of purified drinking water on different floors.
Fixed / wireless PSTN
connectivity facility and intercom.
Broadband, wireless, Wi-Fi.
internet connectivity
Automatic security system
with CCTV, Auto Alarm, surveillance system, and guard patrolling system.
Automatic fire, explosive
and smoke detection and protection system with an international standard fire hydrant system.
Auto powered generator plant
to ensure an uninterrupted power supply with a capacity of 45 megawatts self-electricity sub-station.
External illumination / lighting
at night.
Lost and found desk.
Central mosque
inside JFP complex
Customer loyalty program.
Strict compliance
with the BNBC code