Jokes are the funniest creation of human humor. Here you will get most bangla hsir jokes. These Bangladeshi funny jokes will make you happy. After working for a long time, you can read Bangla mojar funny jokes from our website. It will decrease your stress. In our country, many mother and father looking for Bangla joke to their children. In general, little children love to listen to funny golpo.
Often, young people searching joke image to share their boyfriend, girlfriend, and friend. Nowadays, those who are using Facebook regularly, they want to share a funny joke with their FaceBook friends.
For this reason, Today I am going to share here some excellent Bangla hasir jokes, sms, status etc.
bangla jokes
Teacher: tume tin year dhore ake class a porso, tumer lojja howa uchit. tumer boyose ami proti bosor first hotam.
Student: Apna k nichoy valo master porayse.

…………………………………………………………….
Teacher: boloto kukur mukhar baire jivta ber kore rakhe keno?
Student: Pechoner lajter songge balance rakte.
Teacher: Jara akebare nirbodh o gadha tara sara sobay bose poro.( sokole bose porlao sudhu kisl aka dariye ase).
Teacher: Kire kislu class tue akay tahole nirbodh o gadha.
Kislu: Nah sir, apni aka dariye asen, ata ki valo dekhay!!!!!!
…………………………………………………..




bangla jokes funny
Wife: attokhon dhore oi kagojtite ki dekso?
Husband: koi kisu nah to.
Wife: Are, a je dehi daha mittha bolse. tume pary char gonta dhore amader mabin nama ato khutiye khutiye deksota ki suni?
Husband: tmn kisu nah. onnek khon dhore khujao keno jani kabin namar meyad urtirninner date khuje palem nah.
………………………………………………………………..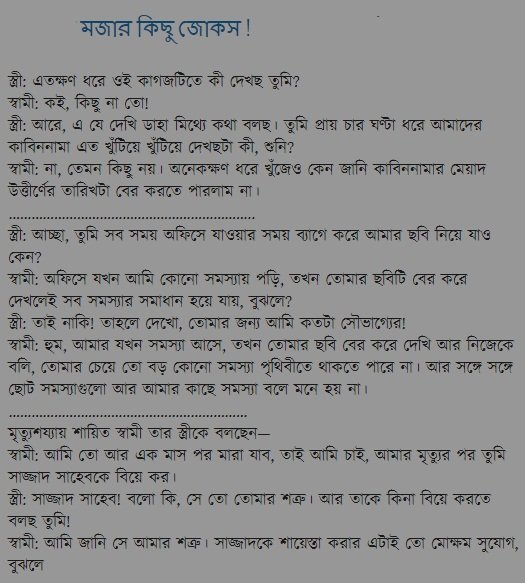 Chandu gelo k hote chay kutipoti onusthane.
1000 taker jnno chandu k prothom question kora holo
apner babar name ki?
option gulo hossa
Amir khan.
Shahruk khan
Sachin Tendulkar.
মখলেস মিয়াঁ.
Chandu onnekhon vaber por bollo
ami life line nite chay 50-50.
duto option musha gelo
roilo
Sachin Tendulkar.
মখলেস মিয়াঁ.
chandu aber o nischit noy. bollo dorshok der help nite chay.
dorshok  voting ar result
Sachin Tendulkar. (80)
মখলেস মিয়াঁ. (20)
chandhu aber o sure nah. se bollo sesh option phone friend use korte chay.
uposthapok: Apni kake phone korte chan?
chandu: amer baba k jonab মখলেস মিয়াঁ k.
uposthapok oggan. lao thala.
bangla jokes sms
biyer 10 bosor purti te wife husband k bolese tume kokhonoi ama k valo basho nni
husband rage giye: tahola ai half dozon sele maye ki internet thake download koresi?
Wife are rege giye
tumer ja download speed!!!!!!
a gula ami pashar barir boltu, poltu, r pintur pendrive thake niyesi

bangla jokes picture
akti cele akti maye k prem ar proposed korlo.
mayeti aktu gomvirota dekhaye bollo: ami vabe janabo.
arpor a week kono khbr nai.
seleti pray asha sera diyese amn somoy akta chiti palo.
maye ti likhase ai chiti pawer 1 week a moddha amder barite biyer protab pathate hobe.

Bangla jokes app
Are you looking for best Bangla jokes android apps? You can easily download Bangla jokes android apps from google play store. All Jokes apps in Bangla are free to download and use.